Ethiopia-Tribes of the Omo Valley

A Paradise for Photographers
Omo Valley Cultural Tour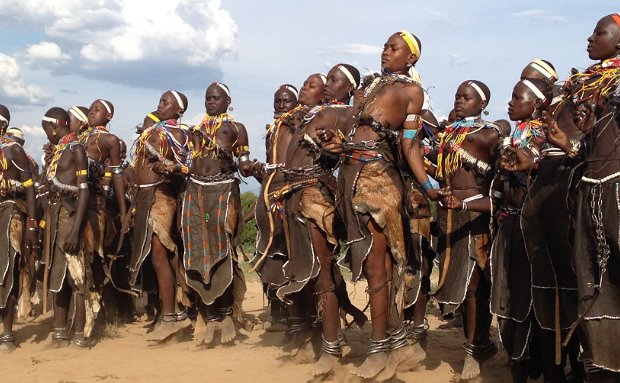 Tours to omo valley region is a dream to every tourists who are seeking for genuine cultural experience. To photographers, the Omo Valley is a cultural paradise and a once-in-a-lifetime experience to capture; An absolute must for every travel photographer's bucket list.
The Omo Valley is a wild place and is therefore not for everybody. This holiday does not attempt to sanitize your experience and will not cosset you from the realities of life in one of Africa's least developed regions. This makes for memorable and profound encounters with some of Africa's most fascinating and charismatic tribes.
This holiday will put you in a position to meet with some of the Omo's most fascinating tribes such as the Dassenach, Mursi, Hamar, Erbore and Kara. While we will put together an itinerary for your holiday, rigid schedules will often be meaningless and counter to the experience most travelers will desire. It is imperative that you are given time and opportunity to get to know the various hosts on your trip. This will often mean reacting spontaneously to a chance encounter, so do not expect to follow your itinerary in a prescriptive fashion.
This trip opens up access to these fascinating communities, using a culturally sensitive approach that focuses on promoting responsible tourism, whilst also enabling profound cultural experiences.
- Witness the colorful weekly African Pagan markets in the south Omo Valley.
- Explore Lake Chamo with boat cruise and Dorze village.
- Experience the untouched south Omo valley cultural tribes.
- The Mursi tribes with their clay lip plate.
-The hair, dressing and dancing style of the Hamer tribes.
-About 16 different tribes to meet.
Gallery
Day-by-Day Itinerary
Day 1
Arrival in Addis Abeba & Fly to Arba Minch
Arrive at Addis Abeba Bole International Airport, meet and greet by your guide and be taken to be invited a welcoming Ethiopian Coffee with light breakfast. Later, the group will be driven to the airport for the short flight to Arba Minch, set amid thick jungle at the junction of Lake Abaya and Lake Chamo. Settle into our cliff-top tukuls (thatched huts) overlooking the "Bridge of God" that separates the lakes, and take photographs of the sweeping landscape. After an early lunch in Arba Minch, we will proceed to Dorze Haizo, located at Gughe Mountain chain. Here, you will be able to capture images of their village, cone-shaped bamboo huts, and cotton weavers and observe 'Kocho' staple food preparation made out of Enset trees. O/N. Lodge/Resort
Day 2
Visit Crocodile Market and Drive to Kono(World Heritage)
Starting off at 8:00AM, we will go on a two hour boat trip on Chamo Lake one of the seven Rift Valley lakes in the region where we will be able to see hippos, nile crocodiles, pelicans and a variety of birdlife. Men in dugout canoes fish with spears and nets.  Keep driving to Konso, UNESCO-registered World Heritage sites in Ethiopia. Here, you will be able to photograph their terraced farm fields, the symbolic Waka totem poles and have a general insight into their nine-clan community structure with photo shoot opportunities enroute as well as within the villages we will be visiting. We will wander the paths through this very rural village. The people are excellent terrace agriculturalists.  O/N. Lodge/Resort
Day 3
Erbore Tribes & Turmi
Drive to Turmi. On the way, you'll visit the village of Erbore tribes. The Arbore women are absolutely stunning; they have extremely dark skin and strong features. Prior to marriage the women have their hair shaved. They wear dark robes, colorful beads and their huts are fabricated from tree branches. We will work on our portraiture skills in this village. Turmi is the home for Hamer people who are friendly and photogenic tribes. O/N. Lodge
Day 4
Drive Turmi Karo Tribes, back to Turmi(130km/Gravel)
During the day, our photography group will meet two different tribes-Karo tribes and Hamer tribes. Early in the morning, we head, towards Korcho, one of the three villages of the Kara tribe. Settled on the banks of the Omo River, this tribe is known for their creative and decorative body chalk painting. Many of the Kara women have pierced lips and insert nails and pins. Our first stop will be in Korcho village. Photographing on the bank of the Omo River can yield iconic images.  After picnic lunch break and returning back, we will be visiting local Hamer villages in close proximity to the main road. The Hamer women have high cheek bones, wear thick copper necklaces and elaborate custom beads. The Hamer People are very outgoing and easily engaged. Many of the men wear feathers in their hair and dress in dark green blankets.
Day 5
Geleb Tribes & Dimeka Market Of Hamer Tribes (180km/80% Asphalt)
Starting off from Turmi at sunrise we will be heading to Omorate, home of the Dassanach tribe who are said to be descendants of Bantu. Like many of these tribal groups they use chain links and other western 'cast offs' as decorative objects. Drive back to be on time for the Saturday market at Dimeka, which is the second market place for Hamer tribes after Monday Market at Turmi. O/N. Lodge/Resort
Day 6
Drive Turmi to Jinka
Head to Jinka located at an elevation of 1490 meters above sea level, the town has a moderate temperature and serves as a capital of the South Omo region. The Ari people dominantly live in and around Jinka and they are the most populated in the whole Omo region. They have adapted the western clothing and their traditional huts are now replacing by the iron roof housing. Out of Jinka is where you find the world's most fascinating tribes. O/N. Resort
Day 7
Visit Mursi Tribes (110km/Gravel)
The distinctive cultural identities of the Omo Valley make it an extraordinary place to photograph. This is the home of tribes such as the Kara, the Hamer, and the Mursi, who decorate themselves with beads, feathers, and elaborate body paint and pride themselves on ancient traditions. From everyday village scenes to portraits of women with lip plates to intriguing initiation rites, our photographic opportunities abound. Today we meet the Mursi, a pastoralist society that inhabits Mago National Park and is especially known for the lip plates worn by the women. The men are draped in blankets. Photographing this tribe is a challenge to any portrait photographer (and a sense of humour is required!) The group can wander freely and our experienced local guide will be assisting you at all times to be the witness for their daily life and learn about their intriguing culture. O/N. Resort
Day 8
Ari Village & Fly back to Addis Ababa
Morning visit the Ari village & Southern Ethnographic Museum. End up this amazing photographing to Omo Valley by flight back to Addis Abeba.