Duration 12-16 Days

Overland & Flight
Ethiopia Cultural Tour to Omo Valley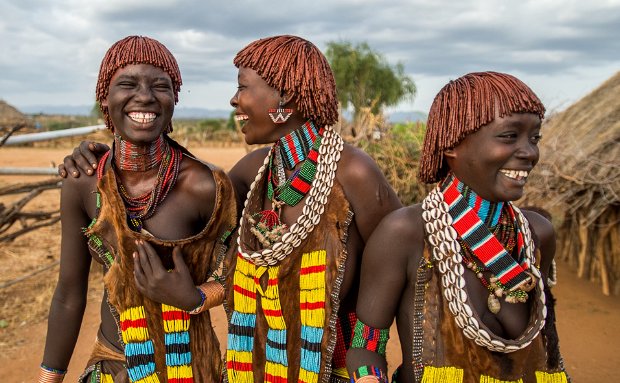 Visit the Omo Valley, Responsibily. Meet the people of Southern Ethiopia on this unique cultural tour, which combines genuine cultural experiences with high quality accommodation. The tour takes you south from Addis through the Abijatta Shalla Lakes National park to Arba Minch, the Omo Valley and Omo National Park.
The Omo valley is dominated mainly by many ethnic groups who speak omotic language as classified by linguistics. The region and the people of this area are one of the least affected by the modern world. The life style of these people has hardly changed for centuries. People still live in simple make shift huts, dress animal skins and drink from calabashes. The area is a veritable paradise for photographers and naturalists.
This tour is 100% Customizeable
To your utmost satisfaction, all of our tours are highly customizable and can be combined with any tour types.
Flexibility
You will experience high flexibility of our services and price quotation to hit your utmost satisfaction.
Our Value for Money Promise
We respect and appreciate your decision to book with us, and we understand that your travel budget is valuable.
Gallery
Omo Valley Cultural Tour
Day 1
Arrival And Drive To Langano (Lake Ziway & Birds)
Addis Ababa to Langano. After breakfast, we drive to Lake Ziway via Meki. Lake Ziway is the largest of the northern group of the Rift Valley Lakes. It lies about 1.5 km east of the town of Ziway, it is best known for its bird life. Leave Ziway and continue to Lake Langano. Overnight at Lodge/Hotel
Day 2
Langano to Yirgalem (Flamingos & Ras Teferian Community)
Visit Abijata-Shala Park for the Flamingos.  Keep driving and lunch in Shashemene, the promise land for the Ras Teferian Community.  Keepd driving to Yirgalem, where you stay in the beautiful lodge at Aregash Lodge.  You will enjoy the beauty of the lodge which was built by the design of the hut of Sidama people.   Overnight at the Lodge
Day 3
Yirgalem/Awassa (Fish Market & Birds)
Walk around the lodge and learn the life style of the Sidama people.  Enjoy the countryside out there.   Drive to Awassa, the administration city for the Southern Nation and Nationality and Peoples region.  It's well developed for tourism as there are so many hotels and resort.   Overnight Hotel/Resort
After breakfast, Visit the fish market in Lake Awassa for bird species.  Head to ArbaMinch  through the rolling hillsides of Wolaitta. After Sodo turn south, and skirt the western shores of Lakes Abay and Chamo, the southernmost of Ethiopia's Rift Valley Lakes, before arriving in Arba Minch, or "40 springs". Check into the Paradise Lodge. The hotel is situated on a hill overlooking the narrow stretch of forested land, known locally as "the bridge of heaven", which separates the two lakes. Lunch at your hotel and let afternoon you will enjoy the boat trip on Lake Chamo. The attraction of the boat trip includes viewing of a large number of hippos and crocodiles from a very close range. Overnight at Paradise Lodge.
Day 5
Arba Minch. (Dorze Village)
After breakfast, we drive to Chencha, to participate in the weekly market of the Dorze .The home of the Dorze people, renowned cotton weavers whose tall beehive- shaped dwellings are among the most distinctive traditional structures to be seen anywhere in Africa. The main occupations of the region are subsistence farming and weaving. The shama cloth produced around Chencha is regarded to be the finest in Ethiopia: plain white Gabbi robes and brightly colored scarf- like netalas are sold along the roadside. Lunch in Chencha at a Local restaurant. After lunch, visit the house of Dorze society which is very tall house measures from 7-11 m in height. It is made of bamboo and the interior section consists of fireplace, bedroom, store, guests sit, and room for keeping small cattle. In addition to the impressive main house, one can see a special house for honeymoon. The garden is also rich of false banana (enset) plant. Overnight at Lodge.
Arba Minch to Konso to Jinka. Drive to Konso, which is about 96km from Arba Minch. Continue Driving to Jinka (160 Km, 4 hours) via Woito and Key Afer, about 200km. Make a drive through Woito village and then to Key Afer. Visit the Benna tribes which are neighbors with the Hamer tribe and it is believed that the Bena actually originated from them centuries ago. And finally proceed to Jinka. Overnight at local Hotel
Day 7
Mursi then to Turmi
Jinka to Mago National Park to Mursi to Jinka After breakfast drive to Mago National park; in the park you may see the following animals Bushbuck, Dik Dik, Baboons and Colobus Monkeys. Then drive to Mursi tribe is known by body scarification and (among the women) the wearing of lip plates. They are settled around the Omo River and in the Mago National Park. Due to the climate, they move twice a year between the winter and summer months. They herd cattle and grow crops along the banks of the Omo River. Return back to Jinka for Lunch, after lunch visit the South Omo Museum & the Research Center for more information about the tribes. If time permits, visit Ari Villages which have neat compounds infertile and scenic land with coffee plantations. They have large livestock herds and produce large quantities of honey. The women wear skirts from the banana like a tree, called "Enset". Ari women are famous for their pottery which they sell to support their families.   Keep driving to Turmi via Key Afer and Dimeka, about127kms on the way, stop in Key Afer for the local market, which is on Thursday This is one of the most colorful markets in the South Omo and is visited by neighborhood Hamer, Benna, Tsemai and Ari tribes. Proceed to Turmi via Dimaka by enjoying the Hamer tribes. Overnight Lodge
Day 8
Kara Tribes and Dassenech Tribes
Turmi to Omorate to Karo to Turmi Today, we drive to Omorate, it is about 35km, cross the Omo River by Canoe and visits the Dasenech villages (Galeb tribe) then drive back to Turmi. In the afternoon visit the Hamer village. The Hamer are a fine looking people, both men and women take great pride in their appearance, shaving and colouring their hair, oiling their bodies and decorating themselves with beads and bracelets worn around the arms and legs. Afternoon drive to Muruelle, it is about 67km; visit the Duss and Korcho villages of the Karo people. They are considered masters of body painting, in which they engage when preparing for a dance, feast, or celebration. Overnight at the Lodge.
Day 9
Turmi/Dimaka to Konso
After breakfast and market at Dimeka(Tuesday/Saturday) or Turmi Market(Saturday), we drive back to Konso. On the way we spend some time at a small village called Dimaka, where the weekly market was underway. While there was some comparison with the market, we had visited a few days earlier, this was fairly different, with a lower diversity of attending tribes (only Hammer and Banna live close enough to attend) and a different selection of wares on offer. Besides all the various grains and hair-colouring soils there were decorated calabashes and traditional musical instruments vying for space with various skins and Jewellery, as well as many more modern plastic objects like buckets and brooms. Tribes and see their dressing styles, houses and way of living. Proceed to Konso via Woito for your dinner and overnight. Overnight at lodge
Day 10
Konso to Arba Minch
After breakfast, we take a morning visit Konso Village. The Konso people are known for their intricately terraced hillsides, fine woven materials and the carved totems with which they decorate their graves. Enjoy the terrace they make recognized and prized by UNESCO. In addition to this it is worth exploring their village, traditionally the konso live in congested centralized settlements, typically situated on the top of a hill and enclosed by stone walls measuring up to 2m high. These walled hilltop settlements usually have no more than three or four entrance gates, and can be reached only via a limited number of steep footpaths. Lunch at Local restaurant and after lunch drive to Arba Minch for your dinner and overnight stay. Overnight at Lodge/Resort
Day 11
ArbaMinch/Addis Abeba
Arba Minch to Addis Today, we drive through hosanna and Melka Kunture, on the way visit Tiya, a UNESCO World Heritage Site, with its mysterious stelae, thought to be grave markers, dating from the 12th century. Archaeological excavations allowed for the recovery of the prehistoric heritage and of the related scientific information. More than 80 archaeological layers have been identified during 50 years of archaeological research; 30 of them have been extensively excavated over surfaces ranging from 50 m2 to 250 m2. Tens of thousands of lithic tools, faunal and sometime human remains (Homo erectus sensu lato and archaic Homo sapiens) have been discovered. Many more are preserved in an area of more than 100 km2, and wait for future research and for future generations of scholars.