Bale Park- Popular for Trekking Tours
Tour to Bale Mountains National Park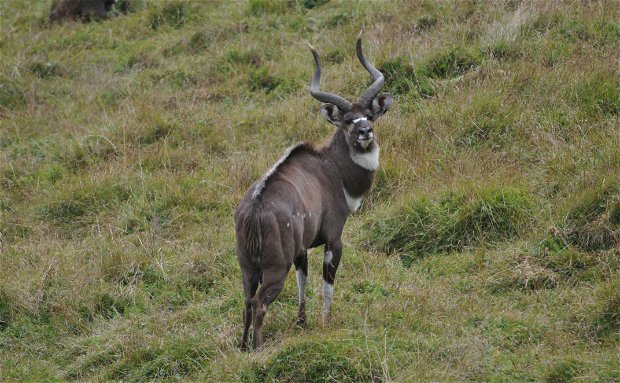 Trekking on the spectacular and scenic mountainous landscapes of the Bale Mountains National Park. The area is the kept secret of Ethiopia (the largest area of Afro alpine habitat in the whole of the continent. It gives the visitor opportunities for unsurpassed mountain walking, horse trekking, scenic driving and the chances to view many of the Ethiopia's endemic mammals. In particularly the Mountain Nyala and Ethiopian wolf and birds such as the Thick billed Raven, Blue winged Goose, Rouget's Rail and Ethiopian Siskin.
- Bale's 1,300-plus plant species include 160 Ethiopian endemics and 23 unique to the park.

- Bale is the main global stronghold for the endangered Ethiopian wolf, a handsome red-and-white canid often seen trotting through the heather of the Sanetti Plateau, where it feeds on rodents such as the endemic giant mole-rat.

- Bale is the last main stronghold for the endangered Mountain Nyala, a large spiral-horned antelope most often seen on the short walking trail that runs through the Juniper-Hygenia forest around the park headquarters at Dinsho. Other mammals often encountered at Dinsho include warthog, Bohor eedbuck, and Menelik's Bushbuck.

- The Harenna Forest south of Sanetti supports the park's richest variety of large mammals, These include the remarkable giant forest hog (the world's largest swine) and the very localized Bale monkey, a vulnerable endemic whose tiny range is attributable to its specialized diet of bamboo.

- Bale stands out as the best place in Ethiopia to see endemic birds. Six national endemics are present, alongside another 11 species shared only with Eritrea, and several others unique to the Horn of Africa. Juniper-hagenia forest around Dinsho hosts woodland species such as white-cheeked turaco, yellow-fronted parrot, black-winged lovebird, and Abyssinian catbird, while high-altitude specialties on Sanetti include Rouget's rail, chestnut-naped francolin, Spot-breasted plover, and alpine chat.

- Bale supports the only known sub-Saharan breeding populations of a golden eagle, ruddy shelduck, and red-billed chough, underscoring the Palaearctic affiliations of Ethiopia's wildlife.

- Bale is a superb destination for hiking and mule-back treks. A good starting point for walkers is the undemanding trail around Dinsho, or the half-day Bamboo and Waterfall Trail in the Harenna Forest. Longer trails out of Dinsho, mostly above the 3,000m contour, take from two to eleven days.

Bale is surprisingly easy to explore by vehicle, with all-weather roads offering access to most of its more alluring habitats – indeed all-weather road across the Sanetti Plateau to the 4,377m peak of Mount Tulu Dimtu is the highest in Africa.
 
Gallery
Suggested Itinerary
Day 1
DRIVE ADDIS ABEBA TO DINSHO-HEAD QUARTER FOR BALE PARK
In the morning after breakfast you will drive to Dinsho, via shashemenne (400km from Addis). Enroute you will make a stop on Awash River and Lake Ziway (best known for its bird life) to visit aquatic birds. You will have lunch at Shashemenne (250 km from Addis).You will proceed driving and arrive in Dinsho late afternoon. Up on arrival you will check into a Dinsho lodge.
After a brief break, you will have time to make a short hike along the woodland part of the national park chance to spot endemic Mountain Nyala, Menelik BushBuck,  Bohor Reedbuck and bird species.  In the evening, you will have a dinner and stay the night at the Dinsho Lodge.
Day 2
Trek Dinsho to Sodota via Finch Habera waterfall
You will have an early breakfast and start trekking in the Bale mountains national park to(the largest area of Afro-alpine habitat in the whole, of the continent, giving visitors opportunities for unsurpassed mountain walking, horse trekking, scenic landscapes, waterfall and view many endemic species of mammals. The Ethiopian wolf and Mountain Nyala, Birds such as Thick-billed Raven, Wattled Ibis, Blue-winged Goose and Rouget's Rail).
In the evening you will spend the night at Sodota. Overnight Sodota camping at Sodota campsite.
Day 3
Trek from Sodota to Wasema
In the morning after an easy breakfast you will do trekking to Meraro valley, you will have packed lunch in the bush. In the evening, you will spend the night at the campsite.
Overnight stay camping at wasema campsite.
Day 4
Trek Wasema to Gerbaguracha
In the morning after breakfast, you will trek to Gerba guracha to climb mount Batu(4307m asl),wich a new terrain of afro alpine meadows, incredible endemic plants. Giant Lobelia, and other plant species of high altitudes).
In the morning you will have dinner and stay camping at Gerbaguracha.
Overnight camping at Gerbaguracha.
Day 5
Trek to Sanetti plateau – drive to Harenna forest and back to Goba
In the morning after breakfast, you will trek to Sanetti plateau (an altitude of over 4000metres, covered by afro alpine moorland with beautiful wild alpine scenery). Then your vehicle will be waiting for you and you will drive to second highest point in Ethiopia (Tullu Deemtu 4377 Metres below sea level). Continuing to Harenna forest (Tropical rain forest).Up on arrival in Goba, you will check into Hotel, take a shower of the last five days. In the evening, you will rest, have dinner and stay at night in the hotel.
Day 6
Drive back to Addis Ababa via Asella for departure
After breakfast, you will driving to Addis Ababa you will stop for lunch at Asella. You will arrive in Addis Ababa. Late afternoon where you will do some shopping for souvenirs. Finally, you will be taken to fare well dinner depending on your schedule flight. You will be transfer to  Bole international airport to return flight back home.